We believe in the integrity of God's Word, we do not argue the Word, we believe it!

Faith always comes. Faith is a powerful force and continues until it is done, this brings hope.

Healing always comes. It is always God's will for us to be well.

Prosperity always comes. God takes pleasure in the prosperity of his servant. You must develop a giving lifestyle to be on God's economy. Confession only - does not work. Never tell God how and when He is going to do it. Simply continue to give, and stand in faith for the desired outcome.

We believe the Word, receive it in our hearts, and act on it by holding fast our confession of faith.

We believe in the baptism of the Holy Spirit and the gifts of the Spirit in operation. Speaking in tongues, edifies (builds up) oneself and is very important to exercise daily.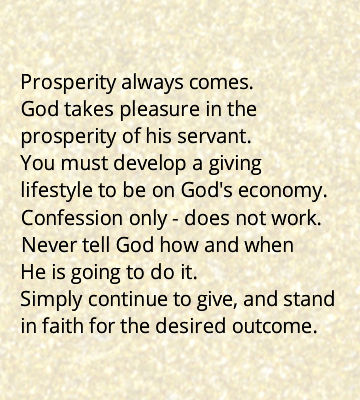 Our Pastors
We are Pastors and Teachers. We will teach you how to fall in love with God and have the blessed life He intended for you to have. We will teach you how to develop Godly Character. We will teach you what belongs to you that you inherited as a child of God and how to receive it all. We will teach you how to operate in the power of God with the Name of Jesus.

Jerry Preiss, Senior Pastor

I am a retired Navy Chief Petty Officer, the father of three grown children, and grand-father.

As a pastor, I will teach you the integrity of the Word. You will start on the Word, stay on the Word, and the end on the Word.

I will teach you to have a personal relationship with Jesus.

In this, you will go when God says go, give when God says give, and ask God to correct you every day as you grow. This will lead you to walking in love and by faith.

You will be blessed to be a blessing and walk in the authority of the believer. This is the fun Christian life we have in store for us.

Becky Preiss, Pastor

Pastor Jerry and I have been married 39 years, have 3 children (2 married) and 3 grandchildren. We didn't know God the way we do now until after we were married so we know how it is to live in this world without and with God. With God is much better!

We teach the truth and it may not always be what you think you want to hear but if you will receive it and act on it, your life will be better. We don't just tell you what God expects, we tell you how to get there with His help. We will teach you how much God loves you and how to fall in love with God. We will teach you how to make your life here like heaven on earth, as God intended for it to be.

I remember when I learned that the devil was real it scared me. Then I learned about the authority of the believer and how to stop him from stealing, killing, and destroying in my life. He may cause sick symptoms but I know how to kick them out and receive healing. I know the end of the story, I win!


Bottom line: we believe the bible and live it. We don't replace the truth with people's experiences no matter how holy the people may have seemed.